News & Events
---
News
East Lansing Educational Foundation award more than $50,000 in grants to teachers
The East Lansing Educational Foundation (ELEF) awarded 37 grants totaling $50,559 to East Lansing Public School teachers on Friday, November 16. More than 2,000 K-12 students in the ELPS community will benefit from grants that create added curriculum opportunities in the arts, science and math. In its nearly 35 year history the foundation has funded more than $300,000 in grants to East Lansing Public Schools.
ELEF board president Kwafo Adarkwa called this latest round of grants "one of the largest giving totals in the history of the foundation and signals renewed commitment from the foundation to continue to support academic excellence in East Lansing Public Schools." Adarkwa added, "This is our reason for being as a foundation and our board members will keep working to generate private financial resources in the community to make days like this possible."
Behind every grant is a story of students and teachers; here are just a few:
All kindergarten teachers in the district will receive $7,094 for literacy enrichment books
Red Cedar Elementary will get $759.00 for Nature Discovery Program for its students
Donley receives $3,600 for an Impression 5 partnership
East Lansing High School gets $1,000 for white boards to support science department students
For a complete list of the grants go to: www.elef.us/grant-program
Grant funding comes from the Foundation's Year End Campaign (look for our campaign letter this month), from the Awards Dinner (May 16, 2019) at East Lansing High School, and the ELEF Tailgate in September.
To make a donation towards future ELEF grants, go to: www.elef.us/donations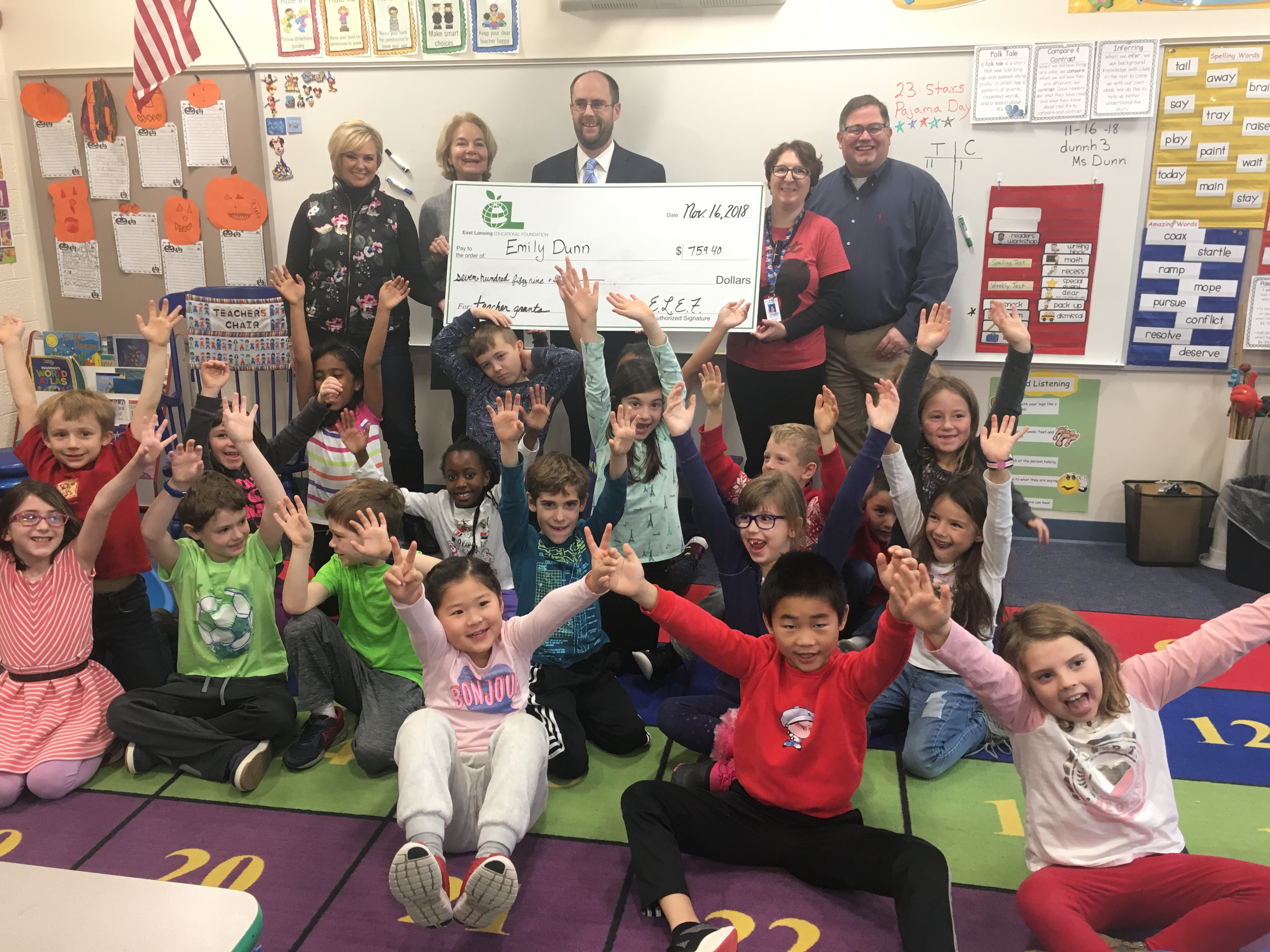 Red Cedar Elementary School teacher Emily Dunn and 2nd grade class receive grant from ELEF
Read ELEF's recent feature on East Lansing Info:
August 20, 2018
"In East Lansing, that commitment shines through the grants and financial gifts awarded to teachers each year through the East Lansing Educational Foundation. Made possible through private donors, the Grants to Teachers Program supplements materials and experiences that enhance classroom learning throughout East Lansing Public Schools."
Read the full article here:
Teacher Innovation Finds Support Through East Lansing Educational Foundation
AT&T contributes $10,000 to ELEF to supports science Department and educational
after-school programs
August 16, 2018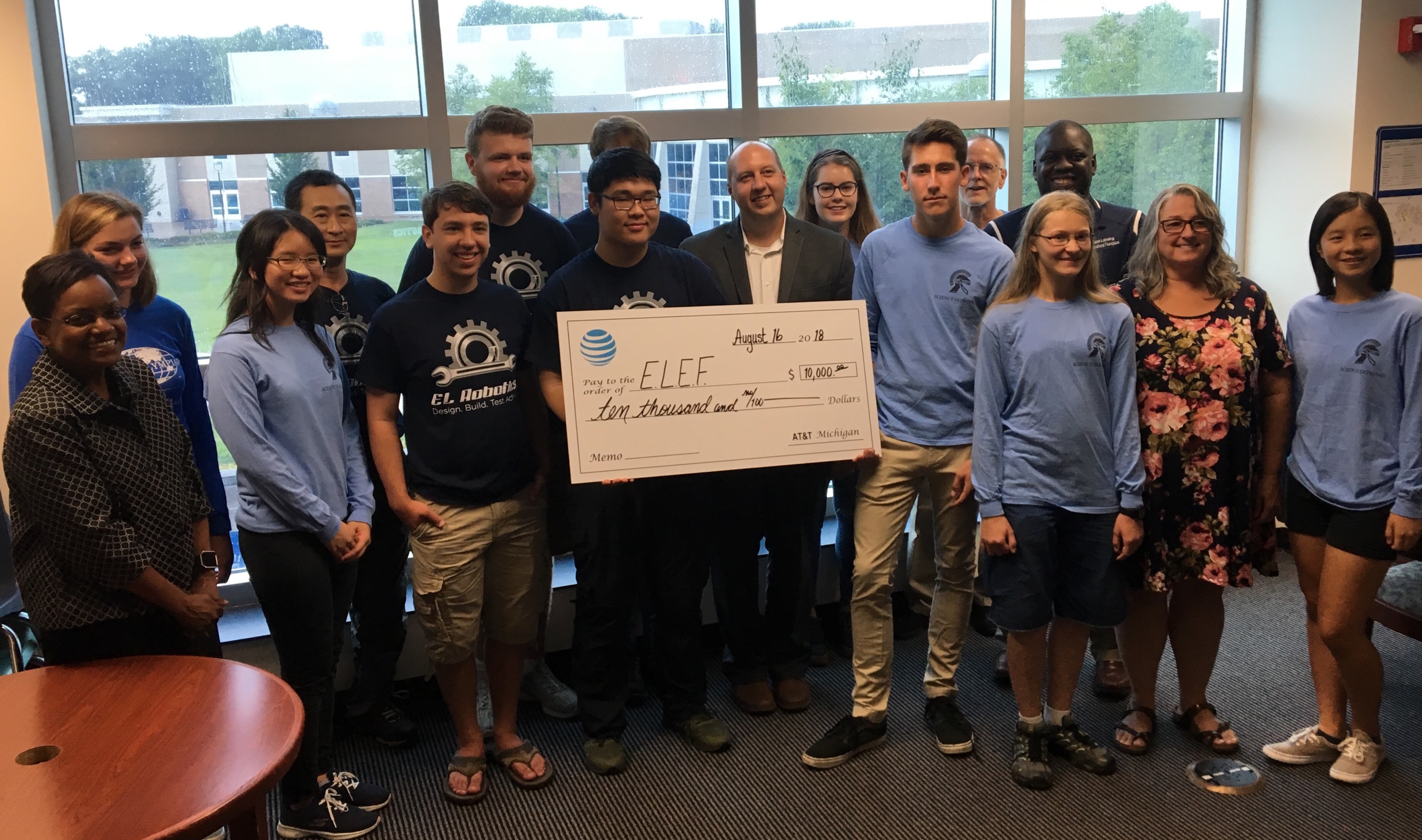 The presentation took place at ELHS on Thursday, August 16th. Yvette Collins from AT&T was on hand to present the check to ELEF Board President Kwafo Adarkwa and members of the ELHS Robotics Club and the ELHS Science Olympiad teams. State Senator Curtis Hertel Jr., who represents the East Lansing area in the state senate, was also part of the event.
"We are very appreciative of AT&T's generous support," said Adarkwa. "This contribution is going to make a real difference in our efforts to support and supplement the educational opportunities available to the students here in East Lansing."
Upcoming events
The East Lansing Educational Foundation and Sylvan Learning Center have teamed up to get you ready. The SAT Practice Test is a half-day seminar and practice exam that preps you for the SAT.
All ELHS students are required to take the SAT in April of their junior year. Studies have shown that student scores improve by taking the SAT multiple times.
When: Saturday, February 23, 2019
8:30 a.m. – 2:00 p.m.
Where: ELHS Student Union
Price: $25 – all proceeds go to the ELEF to help fundEast Lansing School District programs.
Please register early to reserve your spot. Attendance will be limited to the first 150 students!
To register, click here to download and complete this form and return along with payment to:
ELEF, Attn: SAT Workshop; 501 Burcham Dr, EL 48823.
Registrations may also be dropped off in the MMS or ELHS main office. Snacks generously provided by Grand Traverse Pie Company.
Deadline to register is February 15, 2019.