Weng Scholarship
East Lansing Educational Foundation Awards Two Students Weng Scholarship
East Lansing, MI – [Date] – The East Lansing Educational Foundation (ELEF) is proud to announce the recipients of the prestigious Will Weng and Damaras Weng Rogers Memorial Scholarship. This scholarship, generously sponsored by Bob and Judy Posey, is awarded to exceptional students who exemplify the values and commitment to education embodied by Will Weng and Damaras Weng Rogers. Both Will and Demaras are graduates of Columbia University. Will became puzzle editor for the New York Times. Damaras taught third grade and was the head of physical education for the Lansing School District.
The two deserving recipients of the Will Weng and Damaras Weng Rogers Memorial Scholarship are Alden Delgado and Han Truong, outstanding seniors from East Lansing High School. These exceptional individuals have demonstrated remarkable academic prowess, community involvement, and a profound dedication to higher education.
Alden Delgado, an exceptional student with a passion for knowledge, will be atending the LSA Honors College at the University of Michigan. In pursuing a double major in Political Science and Physics, Alden's commitment to intellectual pursuits is evident. During his time at East Lansing High School, Alden actively participated in various extracurricular activities, including Marching Band, Varsity Lacrosse, and Varsity Swim & Dive. He also served as the Co-President of Model UN, showcasing his leadership skills and dedication to global affairs.
In recommending him for the scholarship, one of Alden's teachers described him as someone who stands out because of his character as a leader who can be counted on to have a "thoughtful smile" in the face of obstacles and "to work through challenges without needing to be pated on the back on a daily basis."
Han Truong, an aspiring chemical engineer, is set to embark on an exciting journey at the University of Michigan. With a keen interest in advancing her research on circular RNA, Han aims to make significant contributions to the field of science. Throughout her high school years, Han displayed a remarkable commitment to her community. She held leadership positions as the President of Students for Females in STEM, the Asian Student Union, and Students for Body Image Support at ELHS, underscoring her dedication to empowering others. Han's volunteer work at the MSU Jazz and Winter Festivals and the Greater Lansing Food Bank showcases her selflessness and unwavering commitment to giving back.
In recommending her for the scholarship, Han's supervisor at MSU both lauded her contributions to the circular RNA research team as well as her dedication to service writing, "[k]nowing Han, I am certain that these are not just lines on a resume but opportunities to change the world one small step at a time."
The Will Weng and Damaras Weng Rogers Memorial Scholarship is a testament to the profound impact these distinguished individuals made during their lifetime. Their belief in the power of education and their dedication to their respective fields of expertise continues to inspire students like Alden and Han. This scholarship, made possible through the generosity of Bob and Judy Posey, will award $10,000 to each recipient.
The East Lansing Educational Foundation extends its warmest congratulations to Alden and Han on their outstanding achievements and wishes them continued success as they pursue their goals and service to others.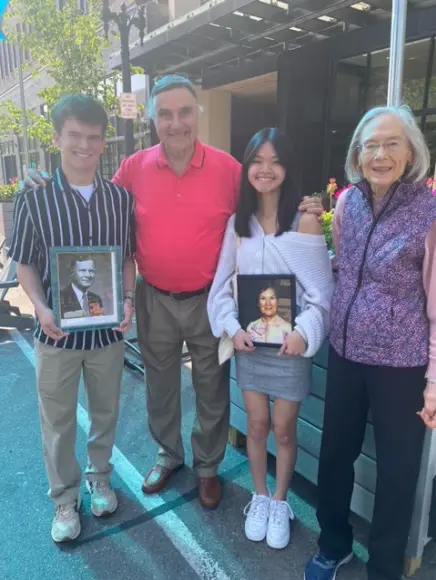 From left to right: Alden Delgado, Dr. Posey, Han Truong and Judy Posey
For more information about the Will Weng and Damaras Weng Rogers Memorial Scholarship and the East Lansing Educational Foundation, please visit https://elef.us/ or contact Julie Thomas-Becket, President of ELEF. About the East Lansing Educational Foundation:
The East Lansing Educational Foundation is a non-profit organization dedicated to enhancing educational opportunities for students in the East Lansing School District. By providing scholarships, grants, and other forms of support, the foundation aims to foster academic excellence and empower students to achieve their full potential.
Contact:
Julie Thomas-Becket
President
East Lansing Educational Foundation
517-648-6301
Julie224tb@gmail.com
https://elef.us/
Events
Golf Outing
Please join us for the 2023 ELEF Golf Outing, which will be held on July 17, 2023.
When: Monday, July 17, 2023
Shotgun Start: 9am
Location: Forest Akers West Course
Format: Best Ball Scramble
Cost: $125/ Golfer $500 Foursome $550 Foursome + Hole Sponsorship
Includes: Golf, Cart, Snack @ Turn, BBQ Buffet, Awards, Prizes, & More!
Can't make it this year? Show your support by sponsoring golf for a teacher!
Annual Awards Celebration
What: East Lansing Educational Foundation Annual Awards Celebration and Fundraiser
When: Thursday, May 2, 2024 | 5:30 - 8:00pm
Where: East Lansing High School Student Union

More info: Hors d'oeuvres, Raffle and Program