News & Events
---
News
East Lansing Educational Foundation surpasses $500,000 in grants to teachers
The East Lansing Educational Foundation (ELEF) has awarded 28 grants totaling $47,363 to East Lansing Public School (ELPS) teachers. More than 2,000 K-12 students in the ELPS community will benefit from grants that create added curriculum opportunities in the arts, science, technology and math. In its 37-year history, the foundation has funded more than $500,000 in grants to East Lansing Public Schools.
ELEF board president Dane Sprecher expressed excitement over passing the $500,000 milestone. "Providing a half million dollars in support for ELPS teachers is an exciting achievement for ELEF and the East Lansing community. Thanks to the support of so many, ELEF has been able to provide resources for an exceptional and innovative educational experience. I am proud of this accomplishment and excited for the future of this foundation and the possibilities for our teachers and students," said Sprecher.
Each year, the ELEF board awards grants to ELPS teachers based on how the proposal will enrich the student educational experience and how it will improve the curriculum. The thoughtful grant applications highlight the talent and creativity of ELPS teachers. Examples of the inventive ways ELEF funds will be used this year include technology that allows portability of physics demonstrations; musical keyboards; DSLR cameras; Olympic-themed physical education equipment; support for ELHS Jazz Night artist in residence program; and the use of specdrum technology for hands-on experience to strengthen computational thinking, creativity, and problem-solving skills. For a complete list of the grants go to: www.elef.us/grant-program
The East Lansing Educational Foundation is a diverse organization pursuing excellence and innovation in education through community engagement, strategic partnerships, ongoing fundraising and effective programming. Grant funding comes from the foundation's year end campaign and from the Annual Awards Dinner each May. To make a donation toward future ELEF grants, go to: www.elef.us/donations

9th Annual East Lansing Educational Foundation Tailgate
Please join us for the ninth annual East Lansing Educational Foundation (ELEF) Tailgate, before the ELHS home football game on
Friday, September 17, 2021.
The tailgate will be held on the west side of Lynn C. Adams Stadium from 5:15 p.m. – 6:45 p.m. or until we run out of food. We will be entertained by the ELHS Marching Band Drum Line.
Our tailgate menu and food provided by Chartwells and the ELEF includes a hamburger, veggie burger or hot dog, potato salad, watermelon salad, chips, cookie and a drink for $5.00 per person.
Come to support our schools and learn more about the East Lansing Educational Foundation. New kindergarten studen
ts will receive a free hot dog meal! ELEF - - BE A PART OF IT
Read ELEF's recent feature on East Lansing Info:
August 20, 2018
"In East Lansing, that commitment shines through the grants and financial gifts awarded to teachers each year through the East Lansing Educational Foundation. Made possible through private donors, the Grants to Teachers Program supplements materials and experiences that enhance classroom learning throughout East Lansing Public Schools."
Read the full article here:
Teacher Innovation Finds Support Through East Lansing Educational Foundation
AT&T contributes $10,000 to ELEF to supports science Department and educational
after-school programs
August 16, 2018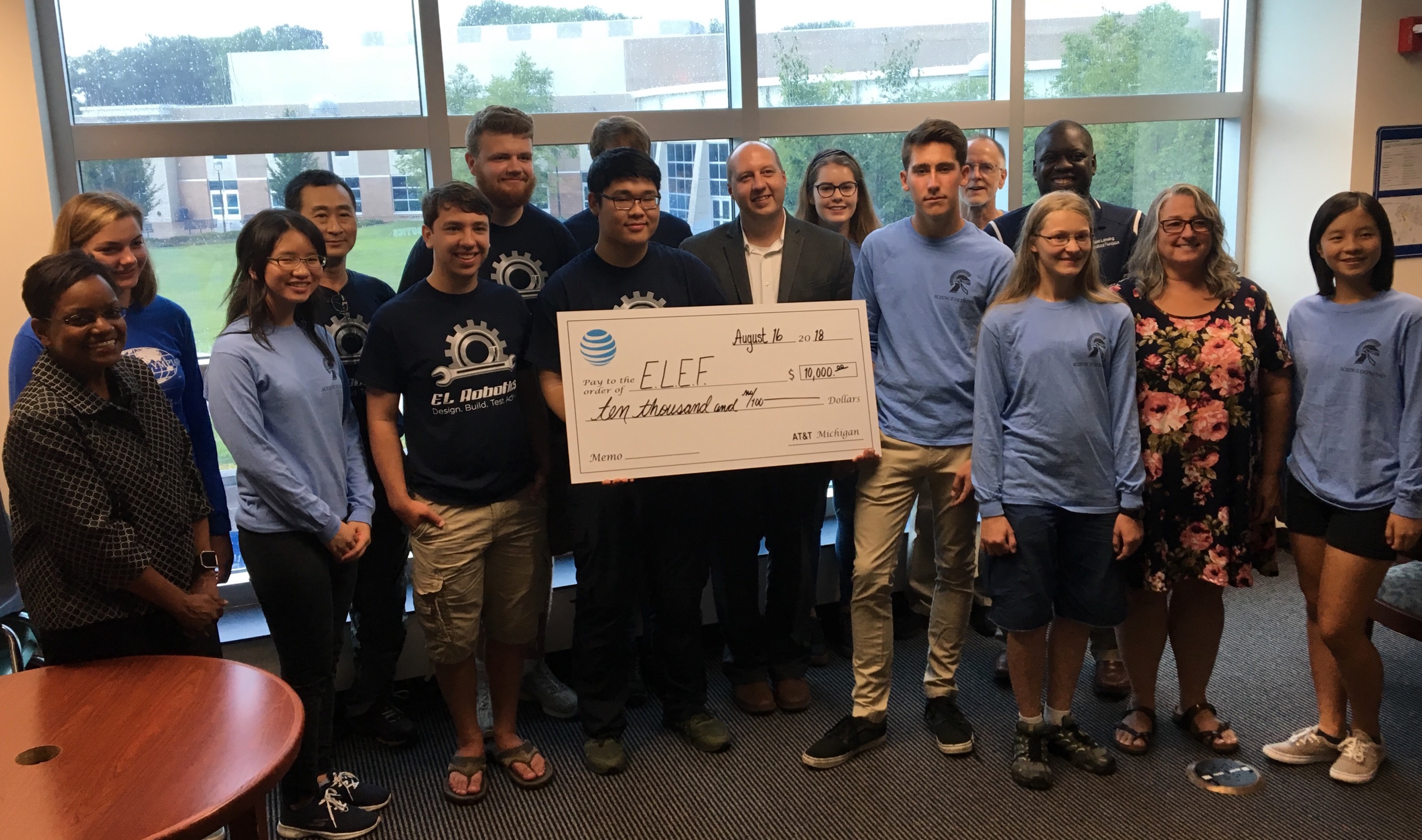 The presentation took place at ELHS on Thursday, August 16th. Yvette Collins from AT&T was on hand to present the check to ELEF Board President Kwafo Adarkwa and members of the ELHS Robotics Club and the ELHS Science Olympiad teams. State Senator Curtis Hertel Jr., who represents the East Lansing area in the state senate, was also part of the event.
"We are very appreciative of AT&T's generous support," said Adarkwa. "This contribution is going to make a real difference in our efforts to support and supplement the educational opportunities available to the students here in East Lansing."