News & Events
News
East Lansing Educational Foundation Surpasses $857,000 in Grants to Teachers and Students
East Lansing, MI – The East Lansing Educational Foundation (ELEF) has awarded 29 grants totaling over $66,818 to support East Lansing Public School (ELPS) teachers and students. Nearly all students in the ELPS community will benefit from this year's grants that create enhanced learning opportunities, including reading materials that represent the diversity of the world's people, experiences in applied math and science, resources to facilitate artistic development and more. This year's awarded funds include both teacher grants as well as $13,500 available for the district to update its offerings in shared book rooms. In its nearly 40-year history, the Foundation has funded more than $857,000 in grants to the teachers and students of East Lansing Public Schools.
"With our community's generous investment, our students have supports they need to explore the world more deeply," said Dori Leyko, ELPS superintendent. "Our teachers in East Lansing are passionate professionals who nurture our children every day, and we are excited that the community has partnered with our team to extend our educators' efforts beyond what the school district can do alone."
Each year, ELPS teachers apply for both individual and collaborative grants to fund enrichment opportunities for their students. The thoughtful grant applications highlight the talent and creativity of ELPS teachers, and this year's funding will make possible many enhancements large and small, including the purchase of 3D scanners, drums for an elementary school, a day-long interactive experience with a Jamaica Maroon community, classroom math manipulatives, and so much more. Many individual teacher grants assist beginning teachers with the purchase of materials to help them build their early practice and development as educators.
For a complete list of the grants go to: www.elef.us/grant-program
In addition to its traditional grants, ELEF will also partner with ELPS for a second year to provide supplemental funding for books that reflect a wider variety of characters and stories than have been traditionally found in classrooms and book rooms across the district. "One of the treasures we enjoy here in East Lansing is the rich diversity of people who bring with them a wide variety of perspectives and experiences," said Julie Thomas-Beckett, ELEF's board president. "The books in our children's schools ought to reflect the treasured diversity we see in our community."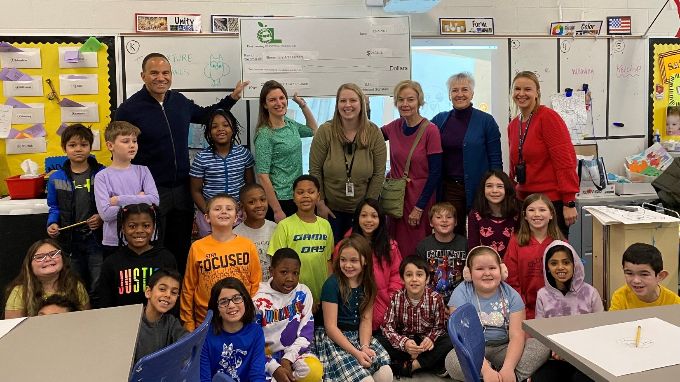 Ms. Sturm receives a teacher grant for the Elementary Art Teachers in the amount of $2404.16.
ELEF's efforts are made possible by 19 endowed gifts along with dozens of annual donors, who give an average of about $400. Make a donation toward future ELEF grants.
East Lansing Educational Foundation Awards Two Students Weng Scholarship
East Lansing, MI – [Date] – The East Lansing Educational Foundation (ELEF) is proud to announce the recipients of the prestigious Will Weng and Damaras Weng Rogers Memorial Scholarship. This scholarship, generously sponsored by Bob and Judy Posey, is awarded to exceptional students who exemplify the values and commitment to education embodied by Will Weng and Damaras Weng Rogers. Both Will and Demaras are graduates of Columbia University. Will became puzzle editor for the New York Times. Damaras taught third grade and was the head of physical education for the Lansing School District.
Annual Awards Celebration
What: East Lansing Educational Foundation 40th Anniversary Awards Celebration and Fundraiser
When: Thursday, May 2, 2024 | 5:30 - 8:00pm
Where: Eagle Eye Banquet Hall

More info: Hors d'oeuvres, Raffle and Program